Drop all of your suggestions here!

Suggestions should take the form of a short write up describing the mascot in question and its history. Add a photo if possible!

We've been without a mascot too long!

Once we have all the contenders, I'll put up a poll for us to take a vote. Choose well! This mascot will last us the war...or at least until Jerry puts a few 250lbers into Croydon.
Last edited by Wolverine on Tue Apr 10, 2012 3:32 pm; edited 1 time in total
_________________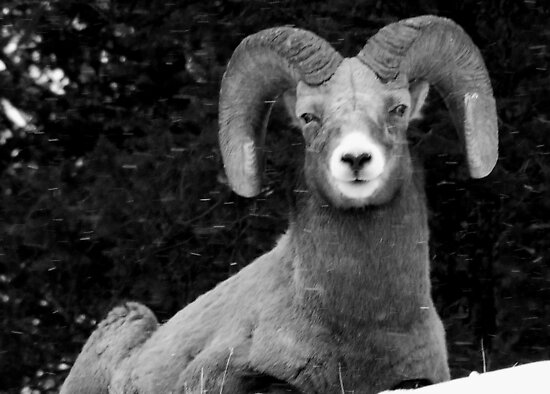 Above: Dartmouth outside of No.401's training airfield near Dartmouth, Nova Scotia. November 6, 1939.
Upon arrival in Dartmouth, Nova Scotia in November of 1939 in advance of being deployed to England, No.401 Squadron was stationed in a barracks that abutted a farmer's field. Invariably, every take off and landing would send the farmer's stock fleeing for the hills. One particularly game goat, however, would run TOWARDS the fence and stare down the incoming hurricanes while pawing his foot and snorting.
On one occasion, the goat burst through the fence and to the astonishment of all, he charged a taxing Hurricane and squared off against it, barring it from leaving the field. We all had a good laugh until the pilot jumped out of the cockpit and was summarily thumped to the ground by a charging ram!
From that point forward, the animal was an unofficial mascot of the squadron during their stay in Dartmouth. The ram was given the name Dartmouth after the station the squadron was posted to.
I'm sure we could bring him over on the next Halifax delivery!
_________________
Back in the fall of '39 just as I was about to finish my basic pilot training in the Tiger Moth I got a day of leave and asked my gal Anabell Wannamaker (I used to call her Annie Wannabreaker behind her back, but don't tell her ma') if she'd like to take a drive to see the pretty colours up north of the airbase in Trenton. We were driving along this nice country road and rounded a corner when suddenly we came upon a small clearing in the woods with a little ramshackle farm house in the middle. Suddenly my Annie screeches "Ohhhhh,,,,DNR....look at that poor billy goat, he's only got three legs, oh my jeezus we have to stop, oh please we just have to stop so's I can make sure he's alright". So Annie wheeled her 1925 Indian to the side of the road and I climbed out of the side car toward the farmhouse. Just then this old man with a crocked back and hoe over his shoulder walked around the corner and said "houdy son, you got troubles with your moto bicycle there? "Ah, no sir" I said in a commanding voice, "my lady friend noticed your ram in the front here, and wanted to make sure he was OK, cause of his laking a leg an all".
"Well, son, I kin tell ya, that by God is no ordinary billy goat" exclaimed the old farmer. "I'm tellin ya that this here is the best cared for goat in all the county causin" his so smart and the intire family owes our very lives to that fella! You know, I calls him Randy, but that there is another story and kan't tell ya with you're little Missy here an all" Then the farmer presses on. "Why, this very fall, when the first frost covered the fields and I lit my pot belly stove for the first time, we wuz all asleep and a spark must'a fallen on the floor and caught the ol' house here on fire. By God we would'a all burned up if it hadn't been for ol' Randy here cause he started to grunt, and butt his horns agin the front door and woke us up and saved all our lives"! Annie let out a little gasp and said "Oh please mister, did Randy lose his leg in the fire? "Oh heavins' no my dear, ol' Randy here is such a special animal and all, it jus wouldn't be right to eat him all at once, don't you agree?
In this past year at times when I'm fighting Jerry and am about to give up I think of Randy and as long as I have bullets in my guns and breath in my lungs, they can shoot away my ailerons', or blast my elevators or my rudder, but I'll keep on fighting for mum, country and all the other Randy's in the world.
Old Randy the three legged Ram

Speed

Squadron Leader




Posts

: 1965


Join date

: 2012-03-15


Age

: 66


Location

: Kingston Ontario Canada



Any more entries? You can put in multiple entries if you like.
_________________
Above: 'Britannia' the English Springer Spaniel poses with pilots from No.401 Squadron
Known for escaping the attention of her owner, 'Britannia' has become a well known animal around the squadron and frequently keeps pilots company when they are 'at readiness', running with the pilots to their aircraft when the scramble is called.
The commander has referred to Britannia as an English Springer Spaniel, however that heritage is questionable and many have speculated that Britannia's father may have in fact been a Canadian (Labrador Retriever).
Britannia's collar has become the source of many small missives sent by the various squadron personel. On many occasions Britannia has wandered into the officer's mess with a small piece of paper tucked into her collar bearing remarks such as "F/O Wolverine needs grease for his control column", and "LAC StiC likes to taxi with his tail up". Such messages provide a source of light hearted humour for the pilots and crew at the airfield.
_________________
---
Permissions in this forum:
You
cannot
reply to topics in this forum