Development Report #11

2.5.6 Open Beta - This month we have been working to complete DCS version 2.5.6. Some extra time was needed to ensure a smooth transition from 2.5.5 both by our team and our 3rd Parties. You can expect to see the first 2.5.6 Open Beta in early February. We look forward to sharing it with you in the near future.


Speed

Squadron Leader




Posts

: 1965


Join date

: 2012-03-15


Age

: 66


Location

: Kingston Ontario Canada



DCS 2.5.6.43453 Open Beta

DCS World
China Asset Pack: added the 09III SSN AI submarine
ME: Focused and unfocused checkboxes will no longer look so similar
ME: TAB switch order on the weather panel has been corrected
ME. Text in the condition field on the group panel will not be memorized for the next mission
Static ships will now spawn at sea level
ME. Eliminated the same static names of units in the template
User with AI wingman on runway start Aborts take off - AI takes off and keeps going - fixed
Maps surface optimizations
Maps traffic optimizations
Increased night visibility distance of urban area lights
MP: Client and dedicated server instances now use common nicknames.lua file
Input. Joystick adjustment panel. Added possibility to type necessary digital values into user curve fields
MP: Static objects no longer spawn differently for server and clients
Input panel: Added new foldable view of the input list. This can be turned on and off via a special checkbox
Input panel. Help window added, new feature added (right mouse click to open pop-up menu), Categories menu added to device column header
AGM-154A-B: Corrected Radar Cross Section (RCS) value
A-10C, FC3 and BS2 modules migrated to ED DRM protection
Caucasus. Hovering cranes fixed
Missile exhaust fluctuations eliminated
MP. Speedboats spawned via scripting are invisible to clients - fixed

DCS AV-8B by RAZBAM
CAS page update, you can now edit and delete records
Fixed cockpit texture text issue
Fixed bomb release order
Fixed CTD after alignment when selecting DATA page
Fixed Flashing letters in HUD
Fixed TACAN offset symbol position in the MPCD
Fixed VVM HUD position will now remain on the same horizontal plane with the GVM
Changed the gun pod ammo to PGU-32/U SAPHEI-T 25 mm rounds

DCS Mirage 2000c by RAZBAM
Added High Res cockpit pilot body with animations
Added Pilot patches with different uniform colors
Updated training mission 1 for Caucasus and NTTR to reflect changes in the module
Fixed bugs in Coup d'Etat mission 2 and 3 by Baltic Dragon
Added multiplayer version of the Coup d'Etat campaign (to be found under single missions)
Updated manual (version 1.1.0)
Fixed auto-start not continuing past FBW test due to cover condition not being open for switch to activate
Adjustment seat - Corrected travel to align with actual seat and body movement, Corrected seat/body animation calculation so it goes full extent

DCS JF-17 by Deka Ironwork
Fixed RWR new emitter warning sound (only play once when a new emitter appears)
Fixed SMS program change
Fixed MFCD page not saving in NAV master mode
Fixed weapon rdy state mismatch between HUD/MFCD SMS
Fixed gun will be unarmed when the master arm is turned off
Fixed gun cannot be armed when the master arm is off
Fixed gun jam and gun feed count after rearm/repair
Fixed AAP: WMMC2 provides nav computer power, TRAIN includes NAV
Fixed AAP OFF: need to push and hold for 2.0 seconds to turn off all systems
Fixed WMD7/SPJ power supply
Fixed HUD power supply
Fixed Master Caution Reset btn logic
Fixed GBU for JTAC and WMD7 LSS
Fixed WMD7 control. Once changing from CCIP to CCRP, WMD7 camera can be controlled again
Fixed campaign bugs
Modified. Weapons will be directly armed and aligned, if aircraft starts on runway or in air
Modified. SPJ pod will be directly ready (STBY mode), if mounted and aircraft starts on the runway or in the air
Modified. WMD7 will be directly ready (skip BIT but still needs OFF->ON then uncage in POD page), if mounted and aircraft starts on the runway runway or in the air
Modified. DTC will be installed and loaded if the aircraft starts from the runway
You can now place/remove chocks when the engine is idle
Adjusted the VR init position (change x to 0, eye points are moved backward)
Add keybinding for OESP program switch (next/prev)

DCS: C-101 by AvioDev
Several engine sound updates (Still WIP)
Modified binaries structure
Upgraded external and cockpit textures using PBR (Still WIP)
Fixed "floating" harness in rear cockpit of external model when flying solo
Engine correctly shuts down now after 20 sec timeout if startup was attempted with fuel valve switch in the OFF position
Fixed flowmeter indication when CB's are pulled, both EB and CC: No fuel flow, fuel used counting or FF indication when pressing test, if corresponding CB is pulled

DCS: AJS-37 by Heatblur Simulations
NEW!:Added Red Flag 16-2 Nevada Campaign free for all Viggen owners!
Fix to CTD related to firing last sidewinder
Fix to CTD when mission plan has more than 11 waypoints
Fix to Ignition Coil and RADAR/EL Maintenance test CTDs
Fixes to Wrath Of Thunder Campaign, including fixed AI wingman take-off on first five missions
Restart button (Återstart) fixed
Fixed the RWR / Master volume knob repeating, tweaked gain on rotation
Update Rb75 series FM to AFM
Fixed so Rb15 search modes SKORT and STRAK prioritize targets closest to middle of search cone instead of closest to missile
Added new shadow-blocking geometry to avoid light shining through cockpit tub
Fixed sound loop errors in cockpit engine sounds

DCS: F-14B by Heatblur Simulations
Added Cage the Bear campaign COOP version, thank you Kaba!
Fixed Bone Strike mission for SP and COOP
Updated most SP missions to have mission goals enabled
Fix for datalink showing missiles
Fixed various initialization issues
Fix to nozzle logic during engine starts and shutdowns
Tweaked damage resistance for engines and wing tanks - direct missile hits will cause more damage
Aerodynamic damage improvements - direct missile hits will cause more damage
Fix for doubling of trim rate when using a FFB stick (also ignore vJoy as a FFB device)
Significantly improved drawcall efficiency of VDI and HUD - may boost FPS on drawcall/CPU constrained systems
Added default pilot bindings for the new VKB F-14 stick
Reduced audible range of exterior sounds
Added new compressor stall sounds
Fixed sound files paths for RWR, KY-28 and Walkman (2.5.6 compatibility)
Added lubber line to Whiskey Compass
Fixed gaps in weapons selector on pilot's stick
Added RIO white floodlights
Added CAP category knob CW/CCW keybindings
Multiple low speed and ground effect handling qualities improvements in pitch axis
Slightly Increased Stab Power (also in ground effect)
Additional MIL and AB thrust tweaks for performance following stores drag improvements
Tweaked drag while maneuvering above mach 1.2
Reduced landing gear pitch moment
Removed glass from collision model
Fixed custom cockpit livery not registering (Thanks uboats!)

DCS F-16C Viper by ED
Added EEGS Level 5 gunsight and improved EEGS Level 2 - WIP (Dogfight HUD will come a bit later)
Semi Transparent screens in "HUD only" LAlt+F1 view will no lower cause issues for image
Removed OFF label from the TACAN knob
Input for DL switch and MAP switch
New open canopy sound
Corrected CTD when moving throttle from off to idle in Cold and Dark instant action
Corrected the HUD altitude not being affected by pressure adjustments
Added improved afterburner effect
Adjusted engine fuel flow (WIP)
Adjusted turn rate performance for CAT I (WIP)
Corrected AIM-9 cage command
Corrected ejection after use of safety lever engaged
Added AIM-9 SLAVE and BORE SMS selection from the Cursor Switch depress function
Voice messages now cease when the MAL & IND LTS button is released
Added weapon release delay for the AIM-120
Centered AIM-120 symbol within the TD box on the HUD
Added ILS declutter option by pressing the Cage/Uncage HOG button
Added INS velocity error due to incorrect initial coordinates
If an In Flight Alignment (IFA) is enabled with a non-aligned INS, an incorrect heading on the HUD will now result
The HUD FPM will now be removed if there is incorrect INS data alignment
IFA time has increased
Corrected the ALOW error
Tuned the ILS command steering being too sensitive and providing steering too late
Corrected the LINK 16 STN page
Corrected the LINK 16 TIMING
Fixed CNI COM 1 data entry
Fixed the A-A Tacan getting a frozen range when another client cycles their channel number
Corrected SAI caging
The TACAN volume knob now correctly controls TACAN power
Corrected keyboard commands for the Fuel Quantity Knob
Adjusted AIM-9 seeker reticle position on the HUD
Adjusted rotation on several cockpit control elements.

DCS F-18C Hornet by ED
Improved accuracy of gun funnel
Improved stabilization of radar-directed gun sight and gun accuracy
TGP added to the 4th station
CCIP bombing in AUTO mode always using high-drag configuration is fixed
Corrected instances of only one bomb from a dual rack being released
HUD and attack radar page Rmax values now match
Corrected JDAM and JSOW menu freezes
Pre-Planned mode skipping elevation has been fixed
Fixed AGM-65F count down after rearm if walleye is used with an air start
Fixed AGM-65F seeker continuing to slew after uncage
Fixed SAI caging and OFF flag
Fixed SAI cage knob clickability
Note: New Targeting pod pointing modes are in work, but were not ready for this update

DCS Spitfire IX by ED
Corrected rudder keyboard commands

DCS Mi-8MTV2 by ED
GUI. Fixed white bar issue in the training section
Mi-8 Spring Tension Campaign. Mi-28 suddenly explodes in mission 12 - fixed
Added direct controls to pod selector

DCS UH-1H Huey by ED
UN Pilot campaign. Mission 3 corrected

DCS Fw 190 A-8 by ED
Added priming to the autostart sequence

DCS Fw 190 D-9 by ED
Added priming to the autostart sequence

DCS A-10C Warthog by ED
Incorrect binding of left throttle button (see pos. 6, fig. 70, Flight manual English) if user connects TM Hotas Warthog Throttle - fixed

DCS F-5E Tiger II by ED
Added German Voice-Overs to training missions

DCS Persian Gulf Map by ED
New light sources with increased visibility range
Higher accuracy and resolution of seabed to meet new water requirements
Improved sea shoreline
More accurate trees lod transition
Fixed PAPI lights on airfields

DCS: Normandy 1944
Spring and Fall textures are updated
Spring and Fall trees are also updated
Coastal line artifacts are removed
Landscape artifacts are removed
Multiple airfield parkings and taxiways fixes
Airfields are refined with new scenery
Fortification scenery improved
Unique buildings and structures improved
Pegasus Bridge and Chateau de Falez were added

Campaigns
UH-1H Worlds Apart - Spring 2025 Campaign by Low-Level-Heaven Mission Development.
Added DE documentation
Mission 1: F10 Map Marker added. Score system changed.Skip Mission function available at the second task (final score 55)
Mission 2: F10 Map Marker added. Score system changed. Al landing points slightly changed. Tasks 1 to 3 – When cargo is destroyed, these facts and options are displayed. Task 2 - Information about the time limit added. Many knew voice-overs during cargo transport added. WOLF 1 no longer slides into the water. The mission will continue in time. Skip Mission function available before the third task (final score 55). Cargo changed – Container doesn't flip over and gets destroyed that easy anymore
Mission 3: F10 Map Marker added. Score system changed. Many Voice-Overs improved. More immersion - Mi-8 at Tango bravo now on the radio talking and announcing their current position (voice-overs added). Task two / recapture the outpost, adopted. Skip Mission function available before the second task (final score 55)
P-51D: The Blue Nosed Bastards of Bodney Campaign by Reflected Simulations. Campaign updated for the new Normandy map. Wake turbulence off enforced. Player's flight engages the primary target.
Spitfire IX The Big Show Campaign by Reflected Simulations. Campaign updated for the new Normandy map. Wake turbulence off enforced. Player's flight engages the primary target.
Bf 109 K-4 Jagdflieger Campaign by Reflected Simulations. Campaign updated for the new Normandy map. Wake turbulence off enforced. Player's flight engages the primary target.
F-86F Hunters over the Yalu Campaign by Reflected Simulations. Wake turbulence off enforced. Player's flight engages the primary target. Updated F-86F custom skins.
M-2000C Red Flag Campaign by Baltic Dragon.
Mission 7: small tweaks to F-15E behaviour
Mission 15: fixed missing "fox 1 and 2" calls from flight members, fixed an issue where Max would not fight with the Gazelles
The Enemy Within 3.0 Campaign by Baltic Dragon.
Mission 5: fixed rare issue where damaged Mi-8 (first target) would take off thus breaking the mission
A-10C Advanced Aircraft Training Qualification Campaign by Maple Flag Missions.
AFT05 missions: Corrected altitude triggers for flare drop
Known issues
Bf-109: engine start doesn't work
L-39: engine start causes crash
Ground units can cause crash at the path search
Spitfire MkIX The Big Show campaign (5th mission): aircraft spawn place misplaced, aircraft explodes
Blue shadow from the smoke of the cluster bomb

Speed

Squadron Leader




Posts

: 1965


Join date

: 2012-03-15


Age

: 66


Location

: Kingston Ontario Canada



DCS Open Beta 2.5.6.43931 hotfix

Crash at login without authorization data fixed
Multiplayer memory leak on carrier fixed
A-10A and A-10C: taxi lights fixed
Ka-50: IT-23 now can't be adjusted without electric power

C-101 by AVIODEV
Added pitch trim sound when using airbrake.
Both EB and CC pitch trim control systems were reworked:
- Pitch trim indicator light (located on the Emergency Trim Panel) now is ON when the stabilizer actuactor was energized by the signals sum from either main, emergency or airbrake compensating trim systems. The signal is determined as a concurrent sum from both cockpits and can be zero (the light will be OFF) if the resulting sum of commands is zero.
Twilight cockpit light issue solved. Now cockpit lights are on or off on hot start based on solar altitude (sun zenith angle) instead of day hour.
Several external model, textures and liveries updates, including PBR.
Added kneeboard to external pilot. (Known bug: kneeboard is now visible in cockpit view when pilot is not present. Will be fixed in next version).
Updated bump of shoulder patches of external pilot model.
Added normal bump to GPU.
Last edited by Speed on Wed Mar 04, 2020 4:05 pm; edited 1 time in total

Speed

Squadron Leader




Posts

: 1965


Join date

: 2012-03-15


Age

: 66


Location

: Kingston Ontario Canada



DCS 2.5.6.44266 Open Beta 2020-03-04

DCS World
Updated Chinese localization (fixed crash on file dialog window opening).
MP. Dedicated Server. Static aircraft elevated from the ground - fixed.
MP. Dedicated Server. Memory leak using stennis - fixed.
MP. Dedicated Server. AAA and SAM will not engage targets until they have passed overhead - fixed.
ME. Fixed a bug leading to unauthorized switching of a player's aircraft to AI.
Sound Options. Add "Play Audio While Minimized" option.
AI CH-47 not land in user mission - fixed.
HOLD not working at waypoint zero for units - fixed.
Input. Clear combination action raised error for axes in Foldable view - fixed.
Chat and BDA panel configs moved to the user's folder for preventing crash in LUA script.
Someone logged into your account on a different machine.

DCS AV-8B by RAZBAM
NSEQ routing now enabled
EHSD Overlay 1: Air refueling zones enabled (max 3)
EHSD Overlay 2: Flight plan route display enabled.

ILV cockpit files updated
Fixed issue with the guns firing with a Nozzle angle less than 30 Degrees
Fixed fuel pump keybind issue
Improved nose wheel steering logic


DCS Mirage 2000c by RAZBAM
M-2000C Caucasus Campaign:
M05: Flight Lead now waits for player before taxiing

M-2000C Coup d'Etat Campaign:
M01: fixed UAZ refusing to move
M02: fixed issue with F-5s not engaging friendly helos
M02: if F5 crashes into the hills before Iranian attack, the mission will no longer fail

Training missions (Caucasus and NTTR): updates to reflect changes to the module. Added kneeboard pages with instructions to each mission
ILV cockpit files updated
Seat height range adjusted
Fixed issue with INS Panel not working after using JVN Switch

DCS JF-17 by Deka Ironwork Simulations
Fixed missing coord in DST page if entered manually
Fixed AKG route points load for rwy/airborne
Fixed campaign 03/04 brief, dialog, triggers
Fixed radio freq init from ME
Fixed DGFT SOI auto following MFCD with RDR AA page
Fixed TOT calc (now is the diff between planned arrival time and estimated arrival time based on current distance/speed)
Added S2 Fwd/Bwd change HSD scale when HSD is SOI
Added ext light device binding
Added T1 master mode device binding
Added T3 speedbrake device binding
Adjust flash light color/brightness
Adjust AKG launch ceil (7500m -> 8500m)
Removed rockets from inner pylon
Updated unit payload accordingly
Updated cockpit texture (warning light and panels)
Adjust weapon warhead (802 series, LD10, 701 series)
Adjust SD10 loft

DCS Black Shark 2
Georgian Oil War - Grand Campaign - mission ATO-A-P4.2. Added tigger with removing trees action for tank platoon "G Tank 1".
Tuned autostart script that could not start the second engine at an air temperature above +30 Celsius.
The L-140 panel behind the right shoulder has been restored.
Corrected EGT needles color.
Connector of the laser standby switch will be linked with this switch. No need to click the void space.
Corrected engine levers LH RH text.
Auto-man switch animation fixed.
Weapon panel lamps color fixed.

DCS F-16C Viper
Added new F-16C training mission covering CCRP Bombing and CBUs.
Added new UFC training mission.
Updated TACAN DED Page information in Early Access Guide.

DCS F/A-18C Hornet
Updated Flight Manual CN
AIM-120 Rapid fire crash - fixed.

DCS A-10C Warthog
Fixed waypoint names for three A-10C instant action missions.
Fixed french WP names in MESSAGE TO ALL Triggers.

DCS AJS-37 Viggen
Fixed issue where RAT-generator would retract on no weight on wheels instead of gear up.
Fixed duplicate Restart mapping.
Fixed ctd when pressing IRRBFRAMSTEGN (missile step) or IR-SNABBVAL (fast select) when not carrying sidewinders. Also fixed issue when turning off IRRBFRAMSTEGN it would perform another missile-step.
Integrated custom bomb ballistics solver.
Fixed issue where air density was hardcoded but should be calibrated by groundcrew.
Fixed animation of magnetic declination knob.

C-101 by AVIODEV
Kneeboard is now not visible in the internal view when the pilot is not present.
Moving the front cockpit air diffuser will not hide/show the control stick.
Updated Caucasus cold start QS mission. (Replaced AI C-130 by Yak-52 since it was too large for the parking positions at that airport).

Campaigns
Bf 109 K-4 Jagdflieger Campaign by Reflected Simulations.
Bomber formation performance optimizations
Revised Spawning points
Updated P-51D Mustang skins

P-51D Blue Nosed Bastards of Bodney Campaign by Reflected Simulations.
Bomber formation performance optimizations
Revised Spawning points
Revised climbing waypoints
Updated P-51D Mustang skins

Spitfire IX The Big Show Campaigns by Reflected Simulations.
Bomber formation performance optimizations
Revised Spawning points
Updated P-51D Mustang skins

Speed

Squadron Leader




Posts

: 1965


Join date

: 2012-03-15


Age

: 66


Location

: Kingston Ontario Canada



Development Report
Last month we spent a lot of time on AIM-120 missile CFD research, in addition to our previous computation (which was primarily aimed at deriving accurate zero-lift drag).
We have obtained many other aerodynamic parameters such as pitching moment and normal force coefficients, damping moments etc. To ensure realistic maneuverability, plausible control and stability characteristics we performed more than 200 virtual wind tunnel tests at different control fin deflections and various Mach numbers and angles of attack. Below you can see screenshots from our software with computation result visualization.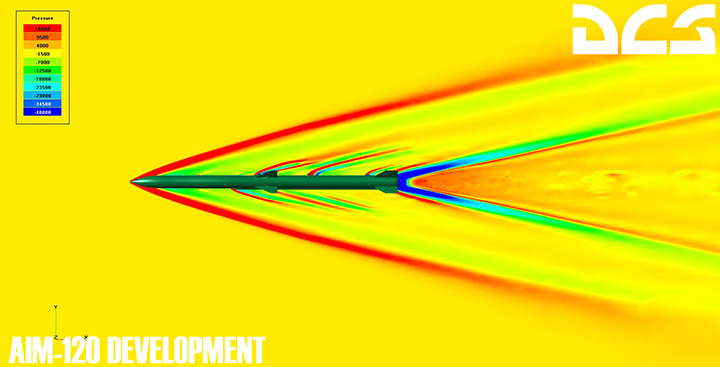 Flight dynamics for AMRAAM are almost done and we will move on to autopilot development.
NOTE 1:
AMRAAM test in TWS Mode
I've done a lot of tests in SP since the last AIM-120 update and find that the missile now reliably gets a kill usually in one shot. If you use the TWS radar mode and keep both targets in soft lock until ATC is achieved, then you have a high probability of getting a one-shot kill. The AMRAAM is fully capable of making a 180 degree turn onto target and if sufficient energy remain, will still achieve intercept.
I stand corrected. I'm just now re-running those AIM-120 BVR tests using TWS mode and the AMRAAMs miss their targets!! The soft lock does not work.  
I'll conduct the next test using the old STT method and see what happens.
NOTE 2:
AMRAAM test in RWS Mode
That made all the difference in the world. Stay in RWS, soft lock both raw hits with one depress of the TDC with the cursor over each brick in turn (Mode 4 IFF), then wait until they are within the 40nm range band on your radar scope. TDC depress again on the lead hit, or use your AACQ command with cursor over the hit to lock it into STT. Fire at 25 nm range and again at 20nm if you want some insurance. (Note: The MiG-29S armed with R-27R will normally launch between 27-25 nm = 50 second to impact). Track until D-30 seconds from the time you got a launch warning then go evasive 45 degrees left/right and 45 degrees down. Keep counting until D-40 seconds and reverse left/right 45 degrees back toward your target, keeping the radar locked on the entire time. Undesignate, switch to AACQ and acquire and lock the wingman and fire immediately, then go evasive again while keeping that missile locked on. Double kill every time!!
The previous problems with missing targets that were hard locked STT while in RWS mode were all related to internet lag.

Speed

Squadron Leader




Posts

: 1965


Join date

: 2012-03-15


Age

: 66


Location

: Kingston Ontario Canada



DCS 2.5.6.45317 Open Beta

DCS World

Hydra 70 rocket. Adjusted drag, corrected motor data. The rocket began to fly a little slower
MP. Stennis. Can't start from 3rd cat - fixed
AIM-7, AIM-120, R-27, R-77 missiles. Loft and HOJ trajectories on the net clients will be closer to the host (delivery aircraft) trajectory
Leader Vehicle. Move crash - fixed
Get Target State For Car crash - fixed
AIM-120. Fixed bug where loft trajectory was dependent on missile heading
MP. Fixed occasional crash at artillery fire
Some memory leaks in the terrain sources were fixed
Crash when AI helicopters collect troops - fixed
Wake turbulence damages aircraft on the ground - fixed
Helicopter AI wingman taxi bug with script - fixed
MP. Missiles flying underground & into Space - fixed
Aircraft repair under hard cover will not creates problem - fixed.

DCS C-101 Aviojet by AvioDev
Seat movement sound correctly stops now when reaching max position, if moving it from one end to the other
Adjusted reset speed of accelerometer needles according to real behaviour
Implemented safety pin of canopy fracturing handle
Modified fracturing handle
Ejection mode selection lever is now functional: by default, it ejects instructor and then pilot, but can be switched off to allow for independent ejection
Fixed ejection pin state initialization at cold start
Both ejection seat handle pin and canopy fracturing handle pin store now in their corresponding compartment, map box or soft Velcro case
Fixed erroneous cabin pressure value at altitude. Behaviour for large differences of pressure is also modified
1020 Hz radio test tone is heard now again
Fixed external lights initialization
Added Ejection Seat Priority Lever ON/OFF control input
Clickable cockpit is now conforming to DCS standards. Both C-101 EB and C-101CC
Corrected Generator OFF position when using control input, it now correctly sets to OFF
Solved longitudinal stability problems. The airplane now behaves correctly in flight (good stability) and during takeoff and landing. No more issues with nose down tendency after landing and nose up "jumping" after takeoff
Left console interior red light in the rear cockpit does not deploy the emergency gear extension handle any more
Fixed emergency fuel korry button light that was not illuminating when pressed
Fixed C-101CC trim. It now has a correct range of +6.5 and -2.0
Landing lights will now be in taxi position when starting on runway
Dimmers brightness decreases now when rotating clockwise, when rotated completely the light will go off
Removed Mk-84 from the C-101CC inventory and removed BR-500 from center pylons, those weapons exceed the maximum authorized weight that may be carried by the underwing pylons

DCS Mirage 2000c by RAZBAM
Added Head to VR Pilot's Shadow

Keybinds:

Radar HOTAS "TDC CENTER" changed to "TDC DEPRESS (Lock Target)". Its unique function is to lock AA targets
Radar HOTAS "STT/TWS Toggle (Target Lock)" changed to "STT/TWS Toggle"
With a locked AA target: toggles between STT/TWS tracking modes (same as before)
With the radar on SCAN and no locked AA target, it selects the default lock mode for AA targets: STT or TWS. The default lock mode can be overridden by the toggle switch but upon target unlock will go back to its default
Guns default firing mode: TOT and PAR either in AA or CAS. Mode will reset to default when deselecting the weapon
Rockets default firing mode: TOT. Mode will reset to default when deselecting the weapon
S530D Salvo mode is disabled
Default switches position when starting in the air:
Radar Altimeter is active (Switches in M and H respectively)
Radar is on EM mode
DDM is OFF (if it is mounted)
DDM (IR Missile detector) is now unmounted and OFF by default
FBW "too slow" sound logic updated
AP "Gong" Sound logic updated
AP Roll limit updated
AP Track Index behavior fixed
Display Changes:

S530D SVI Brackets have been deleted. They do not exist in the M-2000C
S530D G and D are now circled all the time. They indicate that the missile seeker head is locked on the target
Radar TDC is now available in SIL and EM modes
TWS/STT (PID/PIC) lock mode legend is now visible at all times in both SIL and EM modes. It indicates the radar default lock mode (with no locked target) or the current target lock mode
CCRP Target cross "+" has been deleted. This is a M-2000D feature only

DCS: AJS-37 by Heatblur Simulations
Reverted Rb75 FM
Fixed radar screen brightness setting not having any effect in B-scope mode
Wrath of Thunder mission 6: fixed mission complete logic
Fixed RAT sync in multiplayer
Tweaked engine smokiness
Tweaked zero alpha pitch moment at slower speeds

DCS F-14B by Heatblur Simulations
NEW! Added TID AVIA page (displaying AoA, Vertical velocity, ILS and ACLS), enabling the RIO to closely monitor landing procedures and assist the pilot with pattern work
Fix for radar ground stabilization at high roll angles
Fix for radar range scale reverting to 200NM during P-SEARCH HCU acquisition in multicrew
Fix for RWS contacts on TID timing out too soon in a 1-bar scan
Added COMM1_FREQ and COMM2_FREQ params exported to lua scripts for ARC-159 and ARC-182 radios (for example to be used with "cockpit param" in mission editor)
Fix for AB lighting at too high of a throttle position
Improvements to pilot stick travel animation
Added afterburner markers on controls indicator
Removed debug carrier glideslope on controls indicator
Added FFB trim checkbox option for more realistic trim operation feel while using a FFB joystick (works if ANY non-vJoy FFB device is detected!)
More realistic FFB travel with trim actuator movement
Adjusted compressor stall spool dynamics
Fine tuning of pitch axis handling qualities

DCS JF-17 by Deka Ironwork Simulations
Fixed flipped Laser/LSS code issue
Fixed CTD caused by flush DL dbg info
Fixed ext light special binding
Fixed SD-10 to SPT wont LOFT
Fixed TOT speed indicator for on-time arrival (NAV, or AG with WPT as SPI)
Fixed channel copy issue (from 30~59 to 1~29)
Added AG Modes show TOT speed indicator
Allow unbalanced fuel tank loadout (FM improved)

DCS MiG-21bis by Magnitude 3 LLC
Longitudinal stability model improved
Suspension model improved
AI aircraft SFM model improved to more closely comply with "human" model, most notably in terms of previous AoA differences for comparative performances
Positions of fire and smoke effects corrected to comply with visual damage
Some audio-visual effects fixes, such are corrected F2 RPM indication for afterburner regimes, IR signature on afterburner, etc
First stage of code cleanup: part of the code optimized for faster execution and less memory use. Next stage in progress
Corrected inverted animation of PRMG localizer needle on NPP instrument

DCS F-18C by ED
Added FLIR Pointing Modes (HUD Pointing Modes/Snowplow Pointing Mode/Velocity Vector Slaved (VVSLV) Mode)
Radar sometimes doesn't see targets in multiplayer - Fixed
Fixed A/A gunsight foresight cue/Adjusted A/A gunsight funnel
Port Side Navigation Light Stays on - Fixed
Added canopy and MFD reflections options

DCS F-16C by ED
Fixed Dogfight Mode ( Redone Attitude Awareness Arc/Add DLZ for dogfight/Remove silence radar mode in dogfight switch/Correct ACM BORE HUD indication/Added MFD/Add DLZ on FCR page)
Search targets on FCR screen have velocity vectors instead of Hotlines - Fixed
Missing Lock Lines - Fixed
No LOFT for AIM-120 - Fixed
FCR AA Declutter toggles by short depressing COMM Sw inboard for less than 0.5 sec
Improved EEGS mode (Adjusted T symbol,1 and 9g pipper/Adjusted A/A gunsight funnel Level 3 to 4 transition dynamics (now a bit smoother)/T-symbol out-of-plane maneuver lines maximum length was limited)
Horizon line seems too high on Persian Gulf Map - Fixed
F-16 has no option to send flight to tanker in radio menu - Fixed
Add Canopy Color Option
Added canopy and MFD reflections options
UFC training mission inaccuracies - Fixed
Cockpit Warning lights material tuned
Add livery for FS - 13/14/22/23/55/77/79/179/480/522
Add bort number
Radar STT automatic range scale adjustment does not work if STT was entered from TWS

DCS Fw 190A-8 by ED
Major updates for cooling and oil systems
Start-up procedures and priming were tuned for proper use in different weather conditions
Fixes for propeller governor
Engine sounds update
Destroyed tail no longer has multiple tails
Training missions update
Training with bombs is added
Update for start-up and take-off training
Added W.Gr.21 rockets and corresponding control panel in the cockpit
Added all currently existing german bombs to the arsenal
AB 250 cluster bomb with SD 10A submunition
AB 250 cluster bomb with SD 2 submunition
AB 500 cluster bomb with SD 10A submunition
SC 50
SC 250 J
SC 250 L2
SC 500 J
SC 500 L2
SD 250 Stg
SD 500 A
Added provision for the fuel tank
300 liters fuel tank added
Windscreen glass color edited
New skins added to the game
Manual update with information about bombs and rockets

DCS Bf 109K-4 by ED
Major sounds update

DCS Fw 190D-9 by ED
W.Gr.21 rockets were remade as separate models so they could be ripped off while hitting the ground

DCS L-39 Albatros by ED
In the case when the aircraft is controlled by a player in the back seat and is thrown out of the server for some reason, control passes to the first player

Flaming Cliffs 3 by ED
Su-27. Multiplayer data link ghost contacts - fixed
F-15C. Instant Action Persian Gulf F15C Free flight over West Dubai. Increased start speed to 0.8M to prevent stall conditions

DCS Black Shark 2 by ED
Increased time to idle working of first engine for correct start second engine in the cold conditions
Fixed a bug that broke the display of the message "AIRCRAFT READY"
Corrected mirror images inside the cockpit
The Standby Compass (the one on the overhead) fails to show directions from 180° to 360° - fixed

Campaigns
F-5E Aggressors BFM Campaign, F-5E Aggressors ACM Campaign, F-15C Aggressors BFM Campaign and F/A-18C Aggressors BFM Campaign by Mapple Flag:

Updated some units to current models
Removed unused units and replaced them with static models
Corrected parking positions to match 2.5.6 changes
DCS BS2 Republic Campaign:

Minor changes in missions Despair, Party, Cleanup
The Enemy Within 3.0 Campaign by baltic Dragon:

Mission 2. Fixed missing encounters / chatter in Zone Delta if player didn't stop the convoy in Charlie
Mission 17. Fixed problem with the convoy carrying HVA refusing to move
Mission 21. Updated Predator's callsign (Popeye instead of Pontiac in remarks page)

Speed

Squadron Leader




Posts

: 1965


Join date

: 2012-03-15


Age

: 66


Location

: Kingston Ontario Canada



---
Permissions in this forum:
You
cannot
reply to topics in this forum