Virtual 401 Squadron have completed pilot conversion training and we are now flying the F-86F-35 Sabre as 77 Sqn (RAAF) out of the Korea! 1952 server. We have vacancies for three new pilots to complete our twelve plane Sabre squadron. In order to fill these vacancies, we are planning to deliver Sabre pilot training early Autumn 2018. We fly our squadron events weekly on Saturdays at 2300 hrs Zulu and will schedule pilot training on a weeknight at 2300 hrs Zulu to best meet your schedule.
If you are an experienced sim pilot and would like to upgrade from prop to jet propulsion, or you are just starting out and would like to learn how to fly the Sabre jet properly, and to learn about and be able to employ all flight and combat weapon systems, then please drop us a note to introduce yourself so that we can discuss how best to meet your training requirements.
We offer a mature, fun flying experience employing period correct squadron tactics planned and executed using military procedures. We stress team work, a thorough understanding of our aircraft and we participate together as a close community of like minded pilots who strive each week to help one another to succeed. Weekly mission packages alternate between combat air patrol (CAP), close air support (CAS) to ground forces, strike missions or the provision of escort to high altitude formations. You will learn the skills necessary to operate a jet aircraft at the sound barrier, engage the Mig15bis as an energy fighter and learn multiple techniques, tactics and procedures for the delivery of bombs and rockets.
Your personal life will always come first and if you can not always attend training or a mission, then no questions asked. Opportunities to complete missed training will be available to you. So take the step to learn from experienced sim pilots, leverage the knowledge of former military members and fly with a team in a structured and mission focused environment. Once you complete your training, you will be assigned to a flight flying one of three remaining Sabre aircraft that are skinned in our squadron liveries while continuing to learn under the mentoring of an experienced flight leader.
The course syllabus and session training instructions are available for review elsewhere in this forum (main training objectives are listed below). Standards are applied as you are couched in a positive learning environment designed to help you succeed (e.g.to hit a target with a rocket or bomb). Most importantly, you will learn from the experience of others and forgo the frustrating process of trying to learn alone. You will also learn aspects of the Sabre that you might not ever discover on your own.
Start flying with us immediately and take your pilot training when the next course starts. We look forward to welcoming our new team mates.
Cheers
Speed
F-86F SABRE PILOT TRAINING SYLLABUS
Session 01 - Introduction to flight controls, instrumentation, start-up, taxi, take-off, landing, shut down, trim for flight
Session 02 - Communications equipment & voice procedures
Session 03 - Introduction to the A-4 sight, variable sight control unit, radar, caging controls, and fuel settings & jettison controls
Session 04 - Navigation using maps with the radio & magnetic compass, navigation exercise
Session 05 - Close Air Support w/rockets
Session 06 - Close Air Support dive bomb - manual mode
Session 07 - Close Air Support dive bomb - auto mode
Session 08 - Close Air Support dive bomb - Manual PIP mode
Session 09 - Low Altitude Bombing System (L.A.B.S.) and toss bombing tactics
Session 10 - Emergency Procedures/hydraulic system failure, engine failure, gear failure, oxygen system failure, emergency canopy jettison, stores jettison
Session 11 - Speed & acceleration limits, high speed maneuverability, compressibility, critical Mach, buffet, G limits, overshoot, stalls, spin, effects of drag
Session 12 - Introduction to Air Combat Manoeuvre, fluid-four organization, element roles, pilot responsibilities
Session 13 - ACM – guns and two-versus-one tactics against the Mig15, merge, separate, pursue, engage, kill, A-4 sight with/without radar ranging
Session 14 - ACM – guns and two-versus-one tactics against the Mig15, merge, separate, pursue, engage, kill
Session 15 - ACM – four-versus-two tactics against the Mig15, pincer, pounce and manoeuvre engagement to merge, separate, pursue, engage, kill
Session 16 - ACM – eight-versus-four tactics against the Mig15, bait & ambush, high-G manoeuvres, surprise, use of sun, planning the attack.
Completion - Certificate and Virtual Sabre Pilot Wings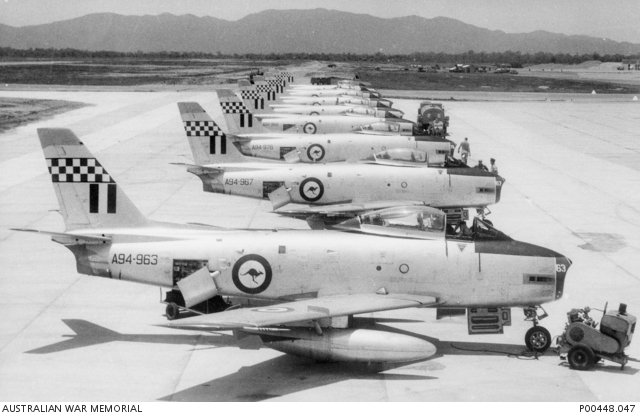 Speed

Squadron Leader




Posts

: 1965


Join date

: 2012-03-15


Age

: 66


Location

: Kingston Ontario Canada



---
Permissions in this forum:
You
cannot
reply to topics in this forum