Today I undertook a ship strike - refuel - air defence against bombers sortie using AGM-65F Mavericks for the ships and 2 x AIM-120C + 2 x AIM-9X for taking on the bombers.
All went fairly well with the Mavericks easily sinking three of the ships and I was able to hookup with the KC-135 MPRS on its northward track and then get to altitude to take on the bombers before they had reached their launch positions.
I carried a belly tank but could not carry external wing tanks as I needed those hard-points for Mavericks.
End result was that I got three ships and one bomber and managed to damage three of the other bombers which saw them break off the attack and RTB. One bomber got through but the carrier's self-defence systems defeated all the incoming sea-skimmer missles.
I had to divert to Gudauta as I was very low on fuel and only had 800 pounds left when I came to turn off onto the taxi-way. My Hornet shut down on me just as I commenced the turn off the runway.
A couple of screenshots:
Just about to exit the active
Stopped dead from lack of fuel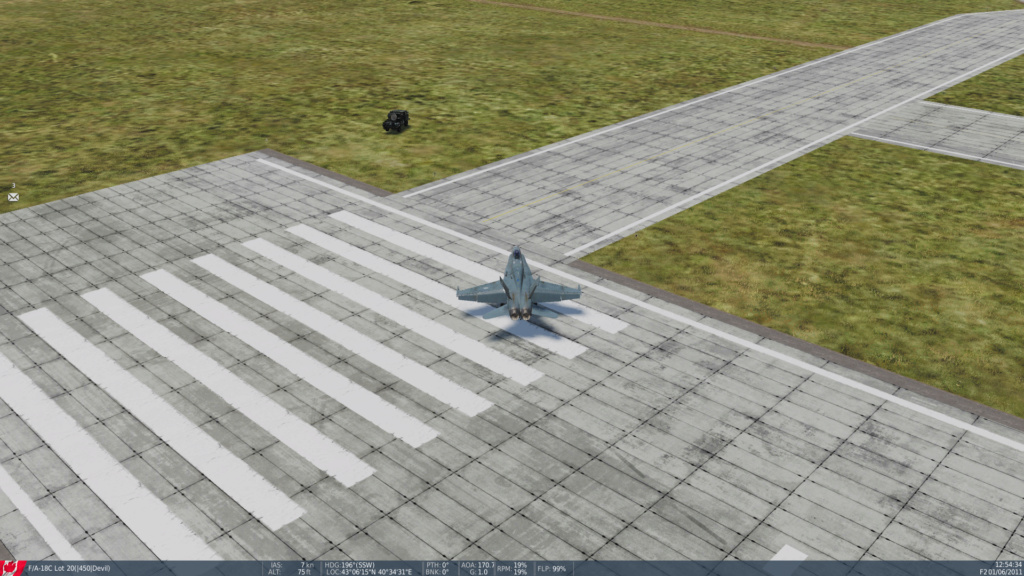 |450|Devil




Posts

: 497


Join date

: 2013-01-28


Age

: 68


Location

: Lovely Banks, Victoria, Australia



That was a close call Dev.

I made a little fun mission down on the deck in the mountain valleys intended to find and destroy two MiG-29s. Even though I knew exactly where they were, I didn't locate either. It appears they were much smarter than I because they immediately peeled back to land at Gudauta since all three aircraft were configured with no tanks. So while I turned and burned up and down the mountain passes I was using fuel at an incredible rate (I think I drained the tanks in under 15 minutes) and ran out of fuel just as Sukhumi came into view.

Unlike the Sabre, the Hornet does not glide. The tail began to sink like the mighty Titanic and if I hadn't exited, I'm sure it would have spiraled down engines first.

Speed

Squadron Leader




Posts

: 1965


Join date

: 2012-03-15


Age

: 66


Location

: Kingston Ontario Canada



---
Permissions in this forum:
You
cannot
reply to topics in this forum