Canadian Tire Motorsport Park was converted to M-Town Canada for the BMW M Festival last weekend. I attended with my neighbour, also a BMW fan/owner and we thoroughly enjoyed the sites and sounds (the extra eye-candy made up for the rain that spoiled the track lap and my 12 hours of car detailing)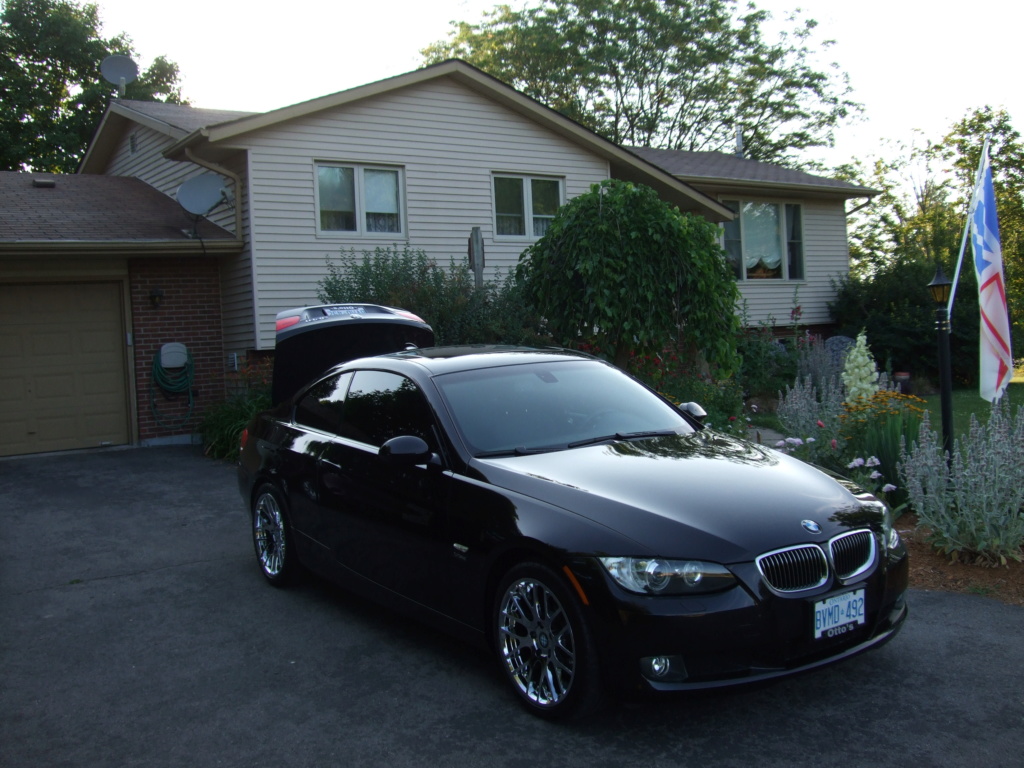 Ten years and still lookin' good. Picking up my neighbour at his place across the street.
I entered my car in the Show and Shine with the understanding that I'd be mixed in with brand new models and higher quality BMW M models but what the hell, why not. I being an old hot rodder from days gone by participated in many show and shine events where the owners open the hoods and leave the windows down so that folks can get a good look at your particular ride. I guess the new age BMW owner knows nothing of that culture because these folks just parked their cars, locked them up and walked away. Didn't see much showing or shinning all day. I was the only one with hood up and open windows.
https://www.youtube.com/watch?v=AMbf9BP7P4w
This video was taken early on Saturday when I was there and before the crowds hit their peak. Loved the new 850M and i8 while also enjoying the row of tribute cars entered by select BMW Dealerships across Southern Ontario and Quebec. One news article stated that over $6 million in cars were on display. I took part in the motocross event to drive the Z4 M40i, 3 series and X2 M around the course. My neighbour has pics and when he sends them over I'll post some more.
https://www.youtube.com/watch?v=e4O1WC3zHYM
A little fun with the drifting demo.
https://www.wheels.ca/news/m-town-a-canadian-gear-heads-dream-summer-destination/
The top dog from BMW M attended this event, so that says a lot for the level of importance they put on it. Approximately 4,300 fans participated supported by 300 staff.
If you've not seen an M-Town commercial, they're pretty funny.
https://www.youtube.com/watch?v=WIRcSdOBIYM
https://www.youtube.com/watch?v=XT0tUGpnJS4
Sorry I've been a bit pre-occupied this week fellas, but I almost scored a deal on a 2015 BMW M4. Took advantage of the holiday Monday to go into town and give this car an hour long inspection and man it looked sweet. Very pristine top and underneath with no evidence of ever having been driven in the snow. No stone chips up front and other than a little bumper rash on the rear right bumper (which could be fixed easily), the car looked abolutely right. Six speed standard with leather interior and only the necessities for a performance oriented driver (no driver granny crap!!) and to top it off, only 22,151 km on the odometer and 2.99% financing. Wow - what's not to like.
Spent an entire day negotiating with the salesman (who I know quite well) and we finally settled on a deal (of course they were going to get exactly what they wanted, and I compromised on the trade-in by taking it off the table). So the deal went "upstairs" to the manager for approval and all seemed in order, when almost as an afterthought, I decided to finally look at that Carfax link on the dealership website.
The old saying "buyer beware" should be tattooed on the forehead of every prospective car buyer, because here I am, savy car guy (or so I thought) never thinking that such a stunning looking car could ever have any history worthy of interest, lo and behold, it was involved in an accident in 2017. The sound of screeching tires wouldn't have drowned out my groan as I quickly typed an e-mail to my car salesman friend to say that the deal was off. Whew! Just in time. Seems that the previous owner (a Doctor working at Kingston General) was showing off to his friends on night two years ago and goosed the gas peddle a bit too much and climbed a road medium. Ripped off the drivers side exhaust system, bent two wheels and blew both tires and it had to be towed back after the police accident investigation.
My car saleman friend says "you know the damage was mostly cosmetic and we fixed it back to new". Yesterday I went into the dealership to see him and he showed me the work order and parts list to try and assure me that the car was sound. But it was what I didn't see in the parts list the worried me the most. No steering parts, no suspension repairs or alignment, nothing to do with the highly sophisticated and delicate BMW control mechanisms that are stupid expensive to repair. So I just told him no, not this one.
Next time.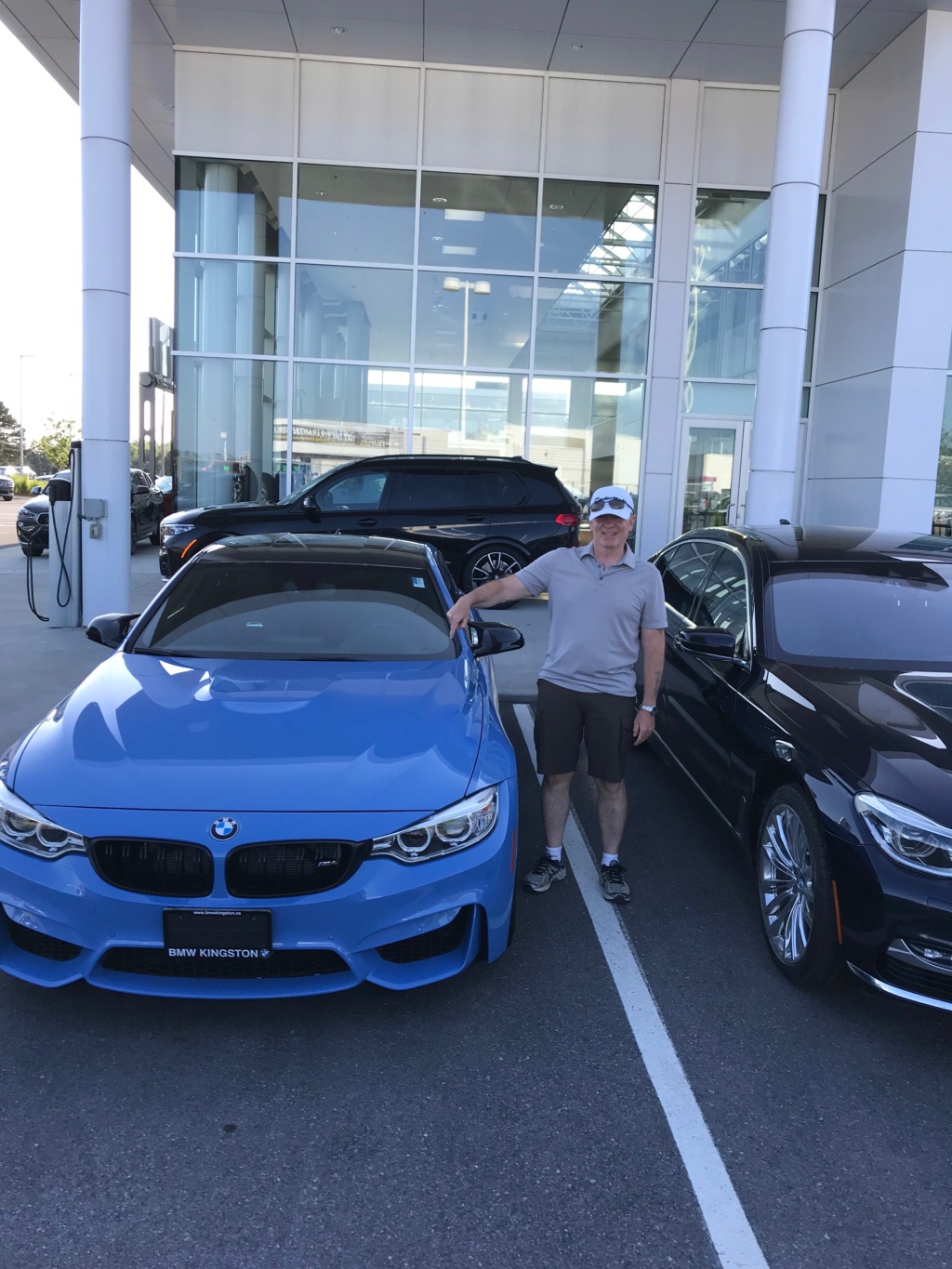 Warrant Officer




Posts

: 398


Join date

: 2012-02-26


Age

: 60


Location

: Canada






Posts

: 342


Join date

: 2013-01-28


Age

: 66


Location

: Lovely Banks, Victoria, Australia



Very nice indeed.

Of course the red car always goes faster and attracts more ladies. Your grandson is headed in the right direction.
Taking tonight off fellas to celebrate with a coffee and early bedtime. I won a Best in Class trophy today in the British, European and Foreign 2010 and Older category. Total cars in attendance was 483 cars (about one half of those were Mustangs!). Long day but lots of fun meeting and talking to fellow gearheads.
https://limestonecitycarclub.com/
See you next week (I'm practicing A/G from now on).



Posts

: 342


Join date

: 2013-01-28


Age

: 66


Location

: Lovely Banks, Victoria, Australia



Warrant Officer




Posts

: 825


Join date

: 2012-02-27


Age

: 49


Location

: Cape Breton Island



_________________
Squadron Leader




Posts

: 1753


Join date

: 2012-01-03


Age

: 38


Location

: Toronto, Ontario, Canada






Posts

: 271


Join date

: 2013-01-12


Age

: 82


Location

: Gold Coast, Australia



Warrant Officer




Posts

: 398


Join date

: 2012-02-26


Age

: 60


Location

: Canada




---
Permissions in this forum:
You
cannot
reply to topics in this forum